Lehigh Valley Stage asks a few questions of director/playwright Brian McDermott about his upcoming production of Kauffman's and Hart's 'You Can't Take It with You', opening March 24, 2017 at Pennsylvania Playhouse.
For more information about the show, please visit http://www.paplayhouse.org/
Give us a little synopsis of the show, in your own words.
Boy and girl from two "different worlds" fall in love despite the differences between their families which may threaten to break them apart. It's a classic story which has been adapted multiple times but still rings as fresh as it did in 1936.
Tell us a little about your cast. How did you come to cast the people you have in the roles they are taking on?
I have a wonderful cast of very dedicated and hard working actors who are doing everything they can to bring this story to life. I had no stereotypes of the characters when I auditioned so it made it easier for me to cast. I tried to cast the actor who (I felt) would bring the most believability to their role.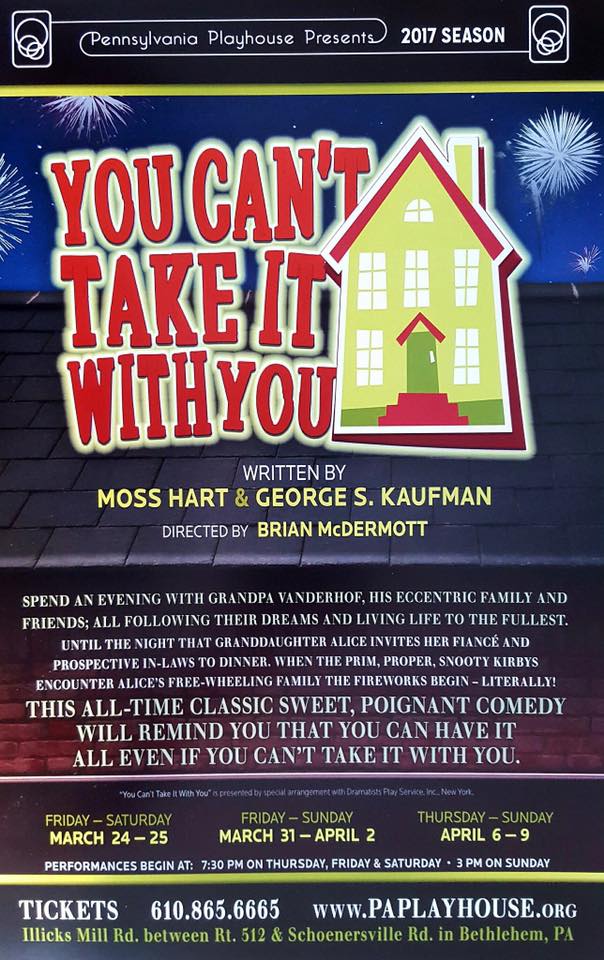 How have you dealt with the issue of stereotypes in the casting of the roles of 'Rheba', the family's African-American cook, and her boyfriend, 'Donald'?
I did not cast those roles based on "color" but more on who "fit" the role. Admittedly, no African-American actors came out for the roles because they simply don't want to play servants and slaves (understandably) so, as a 21st century director, I had to see beyond the stereotypes of the 1930's and cast the best actors who came out for those roles.
Talk about the politics of the show, and the disconnect between Grandpa Vanderhof's disdain for paying his income taxes up against his magnanimity toward the many and varied misfits sharing his house. (What exactly is the source of his income, anyway? How do they pay for any of the things they have in this play, the food, the servants, etc.)
Grandpa owns property and the family (presumably) lives off this income … plus there is the income from the manufacture of fireworks and selling of candies. They are certainly making an income although it may not be in the most conventional of ways. His disdain for income tax comes from the playwright's own agenda (as is the case for most successful playwrights).
Tell us a little about your directing background.
I directed one acts for the Pennsylvania Playhouse when they were doing the one-act playwriting competition and have directed shows for Rainbow Players. I'm not as "versed" in directing as other area directors but through my playwriting/acting I have had the privilege of working with several established area directors who have given me a lot of insight and knowledge into the art of directing.
What is your approach to the job? Are you a visionary, or do you like to allow the script and cast to synergize without a lot of interference or guidance from you?
I am in-between. I have a vision but also want to see what the actors can bring to that. I am not going to be tunnel-visioned by my own interpretation without allowing my cast/crew to have their input, too.
How did you devise the blocking for a show with such an expansive cast and so many ensemble scenes involving physicality?
Very, very, very, very, very, very carefully.
What's your preference, comedy or drama, and why?
Comedy … because it is much harder to convey comedy to an audience than drama and I enjoy that challenge.
What's next on your personal theatrical journey?
I am directing the PA Playhouse's original play-writing winner "A Marriage Of Inconvenience" … after that, we shall see what falls into my lap!