ALLENTOWN: Come fly with Peter Pan and Tinkerbell, as Allentown Public Theatre (APT) presents Wendy, an Adventure in Neverland, an original version of the classic Peter Pan story, at St. Luke's Lutheran Church (417 N 7th St) July 21, 22, 23, 28 & 29! Devised collaboratively by members of APT's ensemble and performed in partnership with the Puerto Rican Culture Preservation, Wendy, an Adventure in Neverland delves into the magical and mysterious realm of the imagination – where anything can happen!
You'll face off with Captain Hook, fly over Fairy Glenn, and sing pirate songs with Smee, the nonconformist pirate, before the show is over. In APT's version, you'll also start and end in Allentown, where main character Wendy Moira Angela Darling lives with her mom, Mrs. D. Interspersed throughout the play are segments of drumming and dance, performed by members of the Puerto Rican Culture preservation.
"We've had so much fun putting this show together, I can't even tell you!" says director Anna Russell. "The language and spirit of the original script is just so wonderfully playful and inventive. We felt like we had discovered a treasure trove when we first read it! Fast-paced, with larger-than-life characters, an endless stream of unlikely adventures, and constantly-shifting realities, the play captures both minds and hearts as it pushes us to new heights of truth and humility as only make-believe can. We hope to have captured that child-like spirit in our own version as well." Russell reassures us that the show will delight audiences of all ages. "You don't have to be a kid to have fun," she concludes.
Wendy, an Adventure in Neverland will mark APT's 5th annual children's play at St. Luke's Lutheran Church. As in the past, the company will offer FREE Saturday morning theatre workshops for children ages 6-12 in connection with the show. Workshop will be held at St. Luke's Lutheran Church from 10am-12pm June 10, 17, 24, July 8 & 15.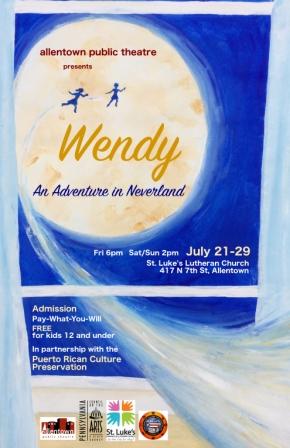 You may have spotted Peter elsewhere in the Jordan Heights Neighborhood this summer – was that him perching on your rooftop? Did you see him gliding through the night sky outside your bedroom window, hopping from star to star? Don't worry – you're not imagining things! APT's own, residential Peter Pan has been out and about, delivering performances and leaving a trail of pixie dust wherever he (she?) visits. As part of the Upside Allentown Artist in Residency program, APT will perform Wendy, an Adventure in Neverland at 4 additional Jordan Heights locations throughout the summer: Grace Episcopal (June 25), Sacred Heart Rectory (July 9), Union Baptist (August 6) and the Arts Park (August 17). Accompanying workshops precede each of these productions as well.
Don't miss your own chance to meet Peter during his stay at St. Luke's Lutheran Church and the Jordan Heights Neighborhood – and discover the magic that is make-believe!
Wendy, an Adventure in Neverland will be performed at St. Luke's Lutheran Church on July 21, 22, 23, 28, & 29 (Fridays at 6pm, Saturdays and Sundays at 2pm). Tickets are pay-what-you-will for adults, and FREE for children 12 and under. For more information about performances and/or workshops, please contact This email address is being protected from spambots. You need JavaScript enabled to view it. .