Allentown, Pa. – The Pines Dinner Theatre will be opening its fall season with the blockbuster musical "Always...Patsy Cline."
Playing September 8 through October 22, "Always...Patsy Cline" is more than a tribute to the legendary country singer who died tragically at the age 30 in a plane crash in 1963.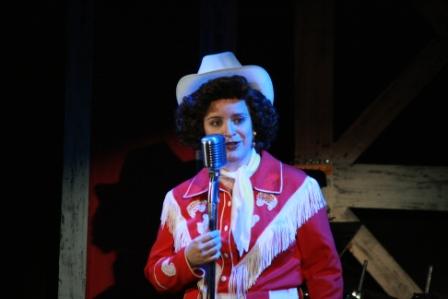 The show is based on a true story about Cline's friendship with a fan from Houston named Louise Seger, who befriended the star in a Texas honky-tonk in 1961, and continued a correspondence with Cline until her death.
Written by Ted Swindley, the title was inspired by Cline's letters to Seger, which were consistently signed "Love Always...Patsy Cline."
The show showcases the talents of Stacey B. Yoder portraying Patsy Cline along with Amber Blatt playing Patsy's friend, "Louise Seger."
The cast is complimented by a live band playing all of the memorable Patsy Cline hits.
This musical play, complete with down home country humor and true emotion includes many of Patsy's unforgettable hits such as "Crazy," "I Fall to Pieces," "Sweet Dreams," and "Walking After Midnight"...27 songs in all. It will be just like your are right back at one of Patsy's concerts!
The hit musical "Always...Patsy Cline" was created by Ted Swindley in 1988 in Houston, Texas where he was the founding artistic director of Stages Repertory Theatre.
Having been closely involved with the development of new plays and musicals, Mr. Swindley was considering ideas for a small summer musical that might have some broad appeal for local audiences.
Fortunately, a young singer in his company of actors had the desire to sing the Patsy Cline repertoire and the idea seemed a good match for the Houston theatre, even though Mr. Swindley was not a country music fan of devoted fan of Ms. Cline.
As Mr. Swindley began researching the idea for a musical about the legendary country singer, he became an instant devotee of her wonderful repertoire of songs and the magnificent sound of Patsy's magical voice.
"Always...Patsy Cline" has gone on to great success all over the United States, including a successful run off-Broadway. It has been one of the most produced musicals in America according to American Theatre Magazine.
"Always...Patsy Cline" has also been enjoyed internationally by audiences in Canada, the UK and Australia.
Our guests will have the choice of Sweet Barbeque Pulled Pork, Honey Balsamic Glazed Grilled Chicken Breast or Striped Pangasius each served with seasonal vegetable and smashed potatoes, or Butternut Squash Ravioli in a brown butter sauce or Fettuccine Alfredo with steamed broccoli. All entrees include a garden salad, fresh baked bread, family style apple crisp and ice cream, as well as iced-tea, coffee or hot tea.
Always...Patsy Cline plays at the Pines Dinner Theatre September 8 through October 22, 2017.
Evening performances (6:30 p.m. dinner, 8:00 p.m. show) are Friday and Saturday, afternoon performances (12:30 p.m. dinner, 2:00 p.m. show) are Wednesdays, Thursdays and Sundays.
Ticket prices are $50 for adults, $49 for seniors (60+), $35.00 for Students (10-16) and $20.00 for children ages 2-9. Ticket prices include dinner, beverages during dinner, the show, and tax. Gratuity is not included.
The Pines Dinner Theatre is located at 448 N 17th St, Allentown, PA 18104. For ticket information, call the box-office at 610-433-2333 or visit the Pines Dinner Theatre on the web at pinesdinnertheatre.com.