'Young Frankenstein," Mel Brooks' comedic retelling of the Frankenstein story, gets a wickedly funny retelling on stage by Act 1 at Desales University in Center Valley.
This raucous musical goes for the funny bone rather than the jugular with stage-filling production numbers, hilarious characterizations and an accidentally dropped squishy brain that gets tossed to a "lucky" audience member.
There is no doubt part of the pleasure of watching the musical that is based on Brooks' 1974 cult classic film, is hearing the familiar references and seeing the familiar scenes skillfully re-created in homage to Brooks' film. Fans of the film will recognize the scene with the revolving bookcase and the double entendre about huge knockers, among as many others. Since the musical takes a lot of material directly from the movie, a lot of the humor is somewhat sophomoric.
But all audiences, whether familiar with the source material or not, will enjoy the saucy and silly "Young Frankenstein" on the main stage through May 7.
In the story that parodies the classic horror genre, Frederick Frankenstein, a New York neuroscientist goes to Transylvania to settle his late grandfather Victor's estate and is drawn into repeating his infamous relative's experiment after meeting a trio of eccentric characters that include a hunchback with an oddly shifting hunch, a sweet but voluptuous lab assistant and Victor's former housekeeper with benefits, whose very name causes horses to whinny in panic.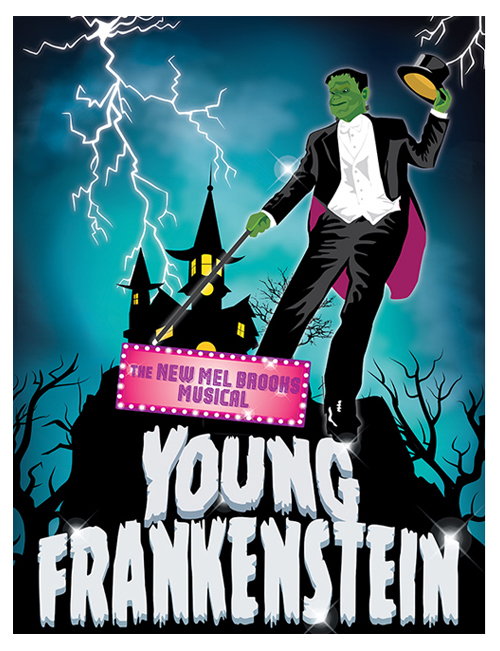 As Frederick Frankenstein, Dane McMichael channels the late Gene Wilder who starred in the original film, complete with an unruly mass of blonde curls. However McMichael's Frankenstein is a tad less manic than Wilder's, while still maintaining the frenetic pace of the show, deftly directed by Dennis Razze.
McMichael makes his reluctant mad scientist a bit naive but grows in enthusiasm as the action moves forward. He is impressive doing a tongue-tripping patter of scientists names in "The Brain," and giddily triumphant in "Life, Life."
As the hunchbacked Igor, Jonah Bloomfield embraces the physicality of the part and gives his character an off-kilter coyness that is oddly appealing and very amusing. The song and dance duet between Igor and Frankenstein, "Together Again For the First Time," is a crazy and entertaining romp.
Ally Borgstrom is winsome, as well as buxom, as the comely lab assistant Inga. She has a great voice and is adorable simultaneously bouncing and yodeling in a hay wagon with an overwhelmed Frankenstein in "Roll in the Hay."
Alexandra Seman as Frau Blucher, is hilariously foreboding with a seemingly permanent sour look, as if she has just sucked a lemon. She is a stand-out when she sings the love song "He Vas My Boyfriend."
Kailey Edwards is perfect as Frederick's self-absorbed fiance. As funny as she is singing "Please Don't Touch Me," it is her second act torch song "Deep Love" that truly showcases her talents. Her two-tone hair ala Elsa Lanchester in "Bride of Frankenstein" adds to the comical effect.
As the monster, Andrew Scoggin is surprisingly endearing. Mostly with his eyes, he manages to make the the monster sympathetic and his big production number "Puttin' On The Ritz" is pure hilarity, complete with impressive tap dancing in sky-high "monster" shoes.
James "Bo" Sayre's German accent, which is comically so thick as to almost be unintelligible as Inspector Kemp, nails the character with a "fake" arm and leg that he stiffly moves around the stage to humorous effects.
Desales theater professor Wayne Turney is delightful in his funny cameo as the blind hermit who tries to befriend the monster and makes the most of his song "Please Send Me Someone."
The ensemble is uniformly strong in both singing and dancing and from the dirndl-skirted townspeople and Transylvanian barbershop quartet in "Welcome to Transylavnia," to the kick line of "Transylvania Mania."
The set ably recreates many of the iconic movie scenes throughout the castle and the laboratory scene has a funky low-tech vibe.
"Young Frankenstein" contains mild language and sexual innuendo and is recommended for age 14 and older.
The 2 p.m. May 6 performance will feature open captioning for those who are hearing impaired and audio descriptions for patrons who are visually impaired. Tickets are half price for those using the services. Call box office manager Catherine Logan at 610-282-3654, ext. 1, for more information.
"Young Frankenstein," 8 p.m. Wednesday through Saturday; 2 p.m. Sunday, DeSales University, Labuda Center, 2755 Station Ave., Center Valley. Tickets: $29, adults; $27, students and seniors, Wednesday and Thursday; $30, adults; $28, students and seniors, Friday through Sunday. 610-282-3192, www.desales.edu/act1.