In the comfortably reliable tradition of Muhlenberg Summer Music Theatre, the breathtaking performance of a leading "lie-dee" distinguishes this seasonal performing arts series from anything else being offered in a musically rich Lehigh Valley region.
In the past three years alone, we've witnessed riveting, show-stopping renditions in 'Gypsy', Hello Dolly', and now this.
Where do they find them!
'My Fair Lady' occupies a peculiar position on the mantelshelf of prized American plays. It's a much revered but hopelessly misogynistic adaptation of a stiff and stuffy comedy by perhaps the least melodic of recognizable authors, Bernard Shaw, who actually won an Academy Award for the screenplay to the film version of the musical's source material, 'Pygmalion', about five hundred years ago.
For those who have recently emerged from a Neolithic time capsule, we'll briefly summarize the arc of this show. (And that's a long 'arc', by the way, the current production docking at port only after a three hour crossing.)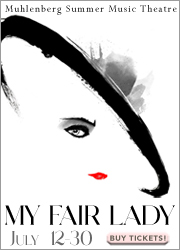 Our voyage takes us from a whimsical opening scene outside the Royal Opera House in London, circa 1912, that introduces us to principal characters, one of whom is a stalker of sorts named Henry Higgins who is spotted jotting down compromising personal information of an unsuspecting Cockney girl, Eliza Doolittle, who is trying to sell flowers to the theater's richly adorned patrons as they emerge post-show in a feverish cab-hailing mood.
The swampy and all but un-navigable English dialect spoken by the young woman stimulates the backwash of all kinds of demeaning remarks from Higgins, a linguist, bachelor, and immutable prig who eventually has her spirited away to his home where he proceeds to train her in the arts of manners and tongue sufficiently to pass her off as a high-borne lady to his plutocratic cronies and family.
Higgins is aided by the sympathetic, but more than somewhat pathetic and sexually indifferent, Colonel Pickering and a squadron of house staff who alternately support and abjure the professor's clinical comportment toward Eliza, which falls just short of how one expects a laboratory animal ought to be regarded.
The remainder of the story line contains at least a couple of public experiments to test the progress of Higgin's pupil, including one held at a horse race; a dress ball at which he hopes to win his bet; and a few unlikely romantic scenes involving a wealthy young suitor who sees--- or hears--- past Eliza's awkward syntax.
Meredith Kate Doyle's "Eliza Doolittle" levitates the entire stage--- and it's often a crowded one--- every time she lights upon it, her sweet soaring voice widening the already gaping proscenium arch of Dorothy Hess Baker Theater.
Her performance is so utterly engaging from her first appearance as a working girl to her last as that 'Fair Lady' that everything and everyone else seem tasked with holding down the boards until she has changed costume and been given a chance to rest her deeply tested vocal cords between songs.
That support is lent reliably and tirelessly by a boyish, but winning, Jarrod Yaskauskas as Higgins; a bouncy and irrepressible Zach Love playing an endearingly unlikely Pickering; and a thoroughly winning Robert Fahringer as Eliza's opportunistic papa.
This production may not offer quite the pace and choreographic grace of MSMT's usual fare. But, Doyle's masterful emergence as a Woman from the artifice of the Lady that Higgins has forced her to portray is powerful incentive to see this highly agreeable show.
'My Fair Lady' continues through July 30. For information and tickets, please visit http://www.muhlenberg.edu/main/academics/theatre-dance/smt/myfairlady/