Harry Connick Jr.'s jazz-flavored musical "The Happy Elf" comes to colorful life on stage at Pennsylvania Playhouse.
The Grammy-winning singer-songwriter wrote the song "The Happy Elf" in 2003 which became the inspiration for his musical comedy which debuted in 2012 at Pennsylvania Youth Theatre. Bill Mutimer who directed that first production, is back for the show's return to the Lehigh Valley.
The show features a backing track with Connick's voice as the narrator and accompaniment by Connick's band. Unfortunately the night we attended there were technical problems with the recording towards the end, but the cast gamely sang acapella.
The story follows Eubie, the titular happy elf who wants to be part of Santa's sleigh team and help deliver presents. When he discovers everyone in a town called Bluesville is on the naughty list, he decided it will impress Santa if her can bring them over the the nice list.
Edward Nuber plays Eubie and enters amusingly banging on a boomba - a uniquely local instrument. Nuber has an appealing youthful appearance and a sweet voice, but is hard to hear at times.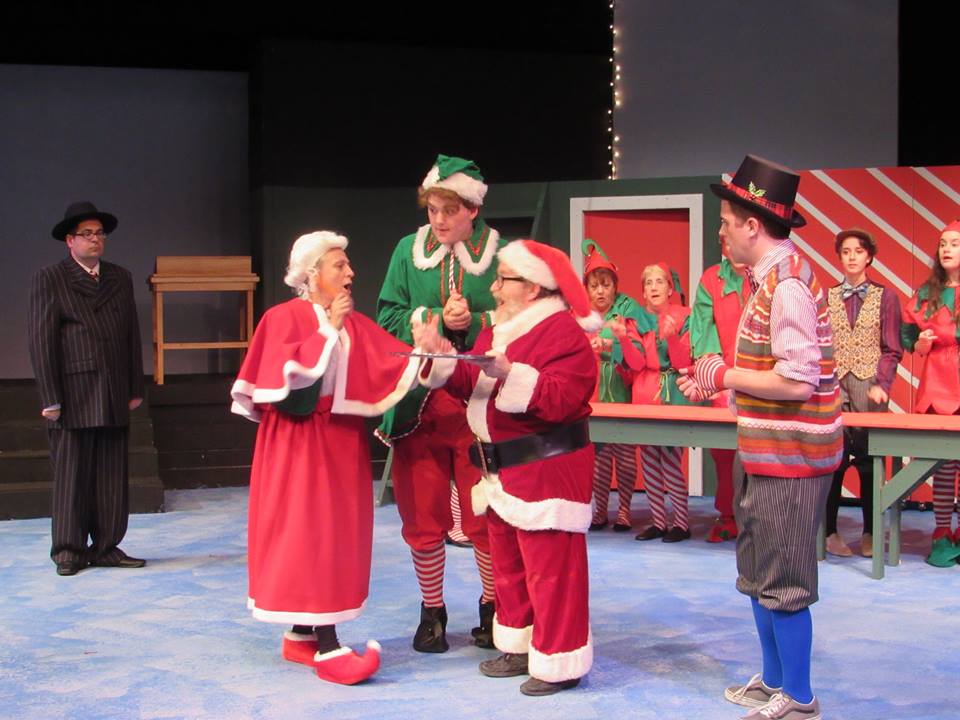 As his friend and secret crush Gilda, Julia Trinidad practically bounces off the stage with energy and has a powerhouse voice. Also outstanding is Thomas Kennebeck as Scrooge-like head elf Norbert who is memorable every time he shows up on stage and also sings well. Dominick Phillip added some comedy as the not-so-bright sleigh mechanic. Sadie Reese is snarky but appealing as the "naughty" girl from Bluesville and Sam Durigan is well cast as her smooth "handler" Curtis.
Mark and Beth Breiner have some fun moments as the mayor and "Mrs. Mr. Mayor" of Bluesville.
Paul Bonnici makes a jolly cookie-loving Santa Claus and his "Santariffic" is an enjoyable number. Adding to the fun is Santa's yearning for cookies while Valerie Piro Conner's calori-conscious Mrs. Claus plops a carrot in his hands.
Billy Erlacher adds an imposing presence as Coppa, a member of the North Pole-ice who put the hapless Eubie in Gingerbread House arrest.
The cast is very energetic, especially during the title number, easily the best song in the show. The show boasts a lot of holiday trimmings, and actors come out in the audience to get the everyone involved during "The Wow Song!" which ends with confetti cannons.
The fairly simple set goes back and forth between the festive elf workshop of Santaland populated by elves of all ages; and the drab town square of Bluesville. Parents should be aware there is some juvenile humor and one song detailing how dreary Bluesville is, is titled "The Poophole Song."
Children who come early can visit with Santa Claus before the show and elves hand hand out candy canes and candy coal on the way out the door. The show runs a child-friendly 90 minutes with one intermission.
"The Happy Elf," 7:30 p.m. Thursday-Saturday; 3 p.m. Sunday through Dec. 17, Pennsylvania Playhouse, Illick's Mill Road, Bethlehem; $25, adults; $22, students and seniors, except Saturdays; 610-865-6665, paplayhouse.org