Sitting through Forge Theatre's presentation of 'Equus' in Phoenixville on opening night was a harrowing experience, and one can assume that was the company's intention, given that everything about the staging of this play was concise, precise, and exacting.
This brutally confrontational production continues Fridays, Saturdays, and Sundays through April 20, 2017.
It's actually a little painful even to try to synopsize this play.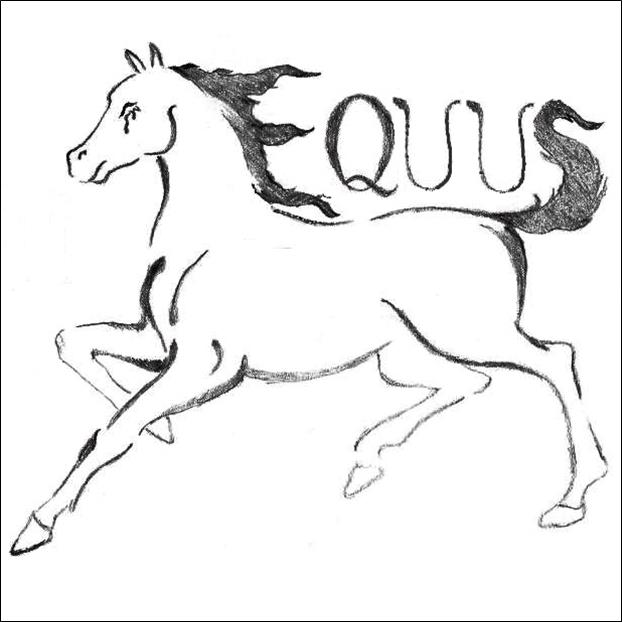 Here's what I mean: A stable boy blinds five horses under his care (for reasons better left for the determined Forge cast, than me, to reveal). For the better part of two hours, a lugubrious and at times somnambulant psychiatrist, charged by the courts to determine the motive for this abominable crime, batters his patient with every pop-Freudian gerspeudalmutzen available in 1973 when the wordsmith, Peter Schaffer, unfurled this banner-to-psychobabble.
'Equus' was a big hit back then, when the Austrian analyst's every doodle inspired a paperback, movie, or play--- do you remember 'A Clockwork Orange' or 'The Seven-Per-Cent Solution'?--- and before animal mutilation became more widely associated with childhood sexual abuse (which, trust me, would have updated and enlivened this script considerably).
And I think it will and should be a big hit in the 83-seat converted funeral home shoehorned into an otherwise horseless neighborhood of this sleepy village, a mere five miles west of Valley Forge, PA.
Much of its success will be the result of a reverence for the material by director Suki Suarus and a human cast so effectively riding-cropped into obeisance that you might have thought youself witness to a Lippenzaner Stallions' dressage demonstration.
The difference was that the 'Equus' herd scarcely moved (and made nary a whinny even when having their eyes pokered out). Suki's style clearly favored stillness over motion. Subsequently, the show was stiff as a barn board at times, which had the fortuitous effect of making even the slightest twitch or head turn appear lively and supple as a prancing steed. And when the horses finally did rise from their stage-side seats and clopped into the light, I swear I could see their imaginary tails flicking away the flies.
Suki's insistence upon equine training and discipline extended even to the most Prussian of final bows I've ever witnessed--- her supporting cast literally never broke character, rising as one from their bleachers, turning as one, bowing as one.
If I've dwelt upon the steeds, it was because they were so graceful and also so economically displayed. Theatre doesn't usually lend itself to economical displays; we're all about ostentation.
That stuff was left in the hands of the human characters, led by the estimable Eric Jarrell in the self-effacing role of Martin, the psychiatrist tasked with making sense of this whole jumble.
He's highly winning, just to look at him. He exhibits no actorly conceits, just goes about his business , a "right jolly old elf". He's got brutally challenging and long dialogues in which his cues call only for him to respond, "What?", "Tell me", "Say it!" and the like (I won't swear that any of those responses were actually in the script, but you get the idea, and any actor will tell you there's nothing harder than waiting to say little.). And he's also the character and the unfortunate actor who has to deliver a professional and perhaps spiritual observation that may have only ever made sense if you'd just finished an intergalactic acid trip.
But, I am telling you, Jarrell does pull it off.
The energy of the play is almost entirely invested in and delivered by Matt Ronzani, playing the sexually confused groom. (In an era in which almost every possible sexual proclivity has been rightly decriminalized, 'Equus' manages to find at least one that has not).
Ronzani, who literally uses every inch of his body, frontally and dorsally, to express the tortured soul of Alan Strang, is the only cast member allowed pretty much full coverage of the playing area, a black box-ish stage that brought him literally against the toes of my boots, perched as I was in the first non-horse occupied row (there were only two side rows available to us, and a slightly larger, more elevated front section of seats.)
And he's pretty amazing at it, actually. I imagine it's difficult to speak in tongues consisting of radio ad jingles, but he seems scarily comfortable doing it, which is all you can ask of an actor.
Because the show is largely a series of ruminative monologues, both Jarrell and Ronzani do yeoman's work trying to keep the audience invested in the thicket of wordplay with which Shaffer has saddled them.
The third performer I want to make especial note of is the utterly convincing Tiffany Moskow, playing the role of Jill Mason, a deeply empathetic young girl with passion natural to her age and generation who couldn't possibly have misplaced her affections more egregiously. Moskow is both saintly and lustworthy in one terribly intense and undoubtedly difficult scene, for actor and audience alike.

I make it a point never to list the entire cast in a review in keeping with the idea that no cast is good enough for everyone to be mentioned. I'll make an exception this one time.
Also believable and appropriate were Lenny Grossman and Teri Maxwell as Alan's parents, Frank and Dora; Laura Cohn as Heather Saloman; Murray Kramer as Harry Dalton; Denise McBride as Nurse; and the herd, Brain Vikane, Christopher Ritsick, Anne Lannak, Stefanaie Nicolosi, Patrick McGurk, and Kat Wylde.
One final leading player in this show who needs applause, or rather five leading players, are the masterfully evocative horses heads constructed from what appeared to be painstakingly twisted 1/4" diameter metal clothes hangers, credited to Burton Merriam, Prop Assistant. Whatever the facts and whoever the sculptor, they were fittingly elegant in the grand scheme of this production.
When my theater-savvy travel mates and I were leaving Phoenixville after final curtain, we discussed which of the many regional theaters we know, particularly in the Lehigh Valley, would have handled this material as competently and cleanly and honestly as Forge's cast and crew.
We couldn't come up with any.
'Equus' continues through April 30, 2017. Tickets are $16, $13 Students, $15 Seniors.
For information, please visit www.forgetheatre.org or call 610-935-1920.
Forge Theatre is located at 241 First Avenue, Phoenixville, PA.