A plot with plenty of twists and turns, coupled with an entertaining and well-acted cast of characters keep audiences engaged in Agatha Christie's whodunit "Murder on the Nile"at Act 1 at DeSales University through Oct. 8.
An evocative set, lush costumes and crisp direction by Steven Dennis contribute to an enjoyable evening of theater to open Act 1's 48th season.
Dennis has configured the three-act play into a more manageable two-act format with two scenes each. The story is based on Christies 1937 novel "Death on The Nile," which was made into a play in 1944. However Christie, who had tired of her popular detective character Hercule Poirot, wrote him out of the play and replaced him with the sleuthing, although somewhat shady clergyman named Ambrose Pennefeather. The characters also speak a number of different accents including British, Scottish, Irish, French, Egyptian and one of uncertain origins. At times some of the accents are a little difficult to follow, but for the most part are successful, thanks to dialect coach Kathy Logelin.
The talented cast skillfully portrays the odd assortment of travelers taking holiday on The Lotus, a 1930s paddleboat, as it cruises up the Nile River in Egypt.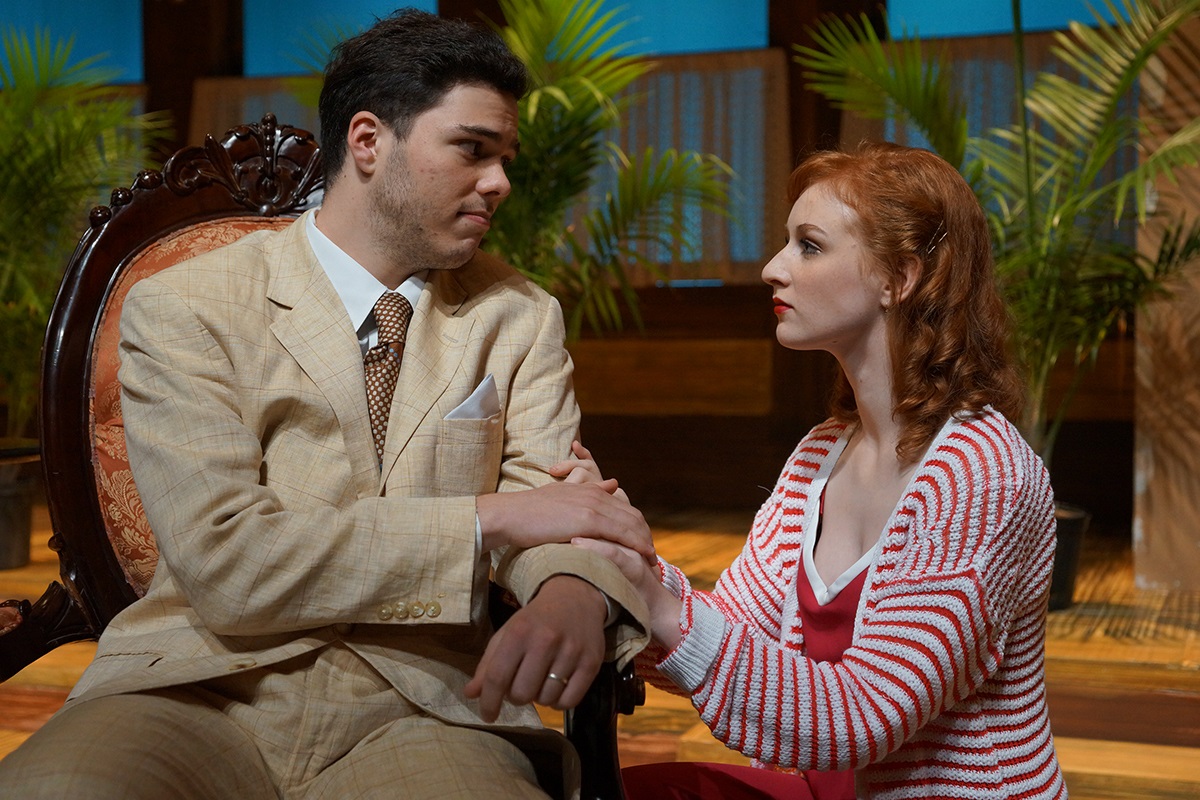 Among them are Kay Ridgeway, "the richest girl in England," and her brand-new but penniless husband Simon Mostyn. Brooke Harrsch perfectly embodies the entitled rich girl who always has gotten whatever she wants and Matt Smaldone makes Simon deceptively simple and naive.
Also aboard are the upperclass dowager Helen Ffoulet-Ffoulkes, whom Nikki Darby makes appropriately stuffy and starchy (and quite unlikeable) and her working girl niece, Christina, played with wide-eyed wonder by Meagan Rossi.
Pennefeather turns out to be Kay's uncle and guardian, quite coincidentally booked on the same cruise.
James "Bo" Sayre is outstanding as the dubious man of the cloth, making him prickly but practical and moral.
Taylor Congdon is well cast as Kay's French maid Louise, whose resentment at her employer simmers just under the surface.
Ethan Larsen is a sharp-tongued young man who has communist leanings and is not what he seems and Nathan Borzillo is the mysterious Dr. Bessner, a doctor from an unnamed country that it turns out that Kay's father had callously damaged.
Embarking at the last minute is Jacqueline de Severac, Kay's former best friend and Simon's jilted fiance, who has been stalking the couple across Europe. Alexandra Seman is strong as the spurned woman determined to have her revenge.
Her drunken rendition of the classic song "Frankie and Johnny" is memorable.
Since the show is "Murder on the Nile," ultimately there is a murder, and many of the passengers have ample motives.
The fun is in seeing the convoluted plot unravel.
All the cast plays well off each other. Early on, Jonathan Cruz and Iyke McCoy add comic relief as relentless souvenir peddlers and Mark Youmakin gives a nice ironic touch to his portrayal of the beleagured steward trying to keep all his passengers happy. Joey Letcher is the out-of-his-league Captain McNaught.
All the action takes place in the observation saloon of the steamer and scenic designer Will Neuert has created a visually appealing space that feels at the same time both airy and close.
Costume designer Deborah Burrill, has outfitted the cast in sumptuous period fashions that are pleasing on the eye.
Special events include a talk with the director and cast after the 2 p.m. Oct. 1
and 9:45 a.m. Oct. 3 perfromance.
The 8 p.m. Oct. 7 performance will feature open captioning for patrons who are hearing impaired and audio descriptions
for those who are visually impaired.
Tickets are half price for those using these services.
Call box office manager Catherine Logan at 610-282-3654, ext. 1.
"Murder on the Nile," 8 p.m. Wednesday through Saturday and 2 p.m. Sunday, through Oct. 8 at Labuda Center at DeSales University, 2755 Station Ave., Center Valley. Tickets: $21, adults; $19, students and seniors on Wednesdays and Thursdays, and $25, adults; $23 for students and seniors Friday through Sunday.
Info: 610-282-3192, desales.edu/act1.