The only character missing from the 'Miracle on 34th Street' motion picture that we've all seen countless times on cable during the holiday season over the years is that figure in the white vestments who climbs into the pulpit on Christmas eve and reads verses from Isaiah Chapter 9.
But nevertheless you are unlikely to hear a more blatantly Christian sermon than this engaging parable of an eccentric man in a white beard who seems to believe good will and acts of kindness still have currency in our grubby little world.
Although it's challenging ever to top the devilish lack of charm of that department store Santa in Jean Shepherd's insistently secular 'A Christmas Story' who plants his heavy black boot squarely on little Ralphie's face and propels the crestfallen child down the fateful chute of glittery capitalism, this play is a safer and more reassuring gamble for those who understandably choose to cling to the promise of faith, hope, and charity.
Actually, you won't be gambling at all when you see DCP Theatre's stage adaptation of 'Miracle', if the audience huddled together in that cozy, rebuilt auction house in Telford, PA for this enduring little tale last Friday evening is a fair barometer of its appeal.
Packed is a more telling word than 'huddled' because that place seems never to lack row after vacuum-sealed row of enthusiastic and devoted patrons who had no trouble expressing their simple pleasure and unbridled joy from the first minute of the show.
The plot is not simple, even if its source material is familiar. A fellow who more than faintly resembles our collective image of Herr Claus finagles his way into the toy department of Macy's department store and sets about to grant wishes and fulfill the dreams of a lot of children and more than a few former children.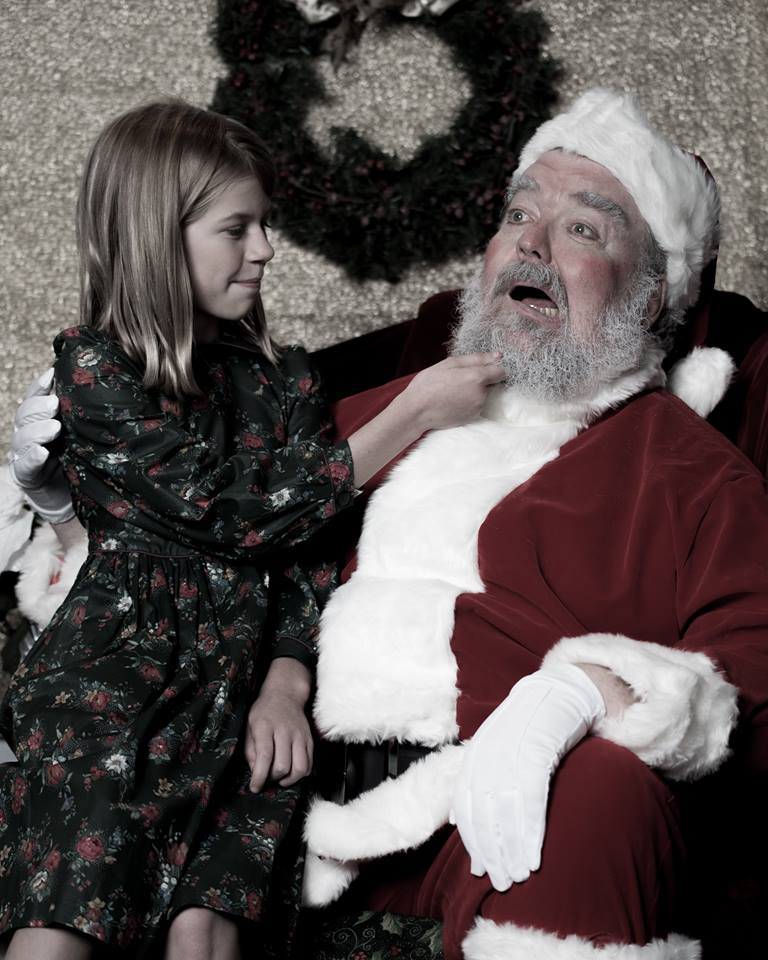 His dogged and relentless sense of fairness and compassion don't seem to fit with the commercial interests of some of his co-workers and supervisors. Thus, after a detour to a mental institution and much wrangling about how we measure sanity and social fitness, he finds himself on trial for his right to walk among us unshackled.
Guess how it turns out!
Jay Fletcher, portraying a lawyer so determined to see social justice served that he quits his civil law firm to defend the Old Elf in court, is the rudder of this ship that features a highly likeable and determined, if not entirely seasoned, crew.
The premise of the show demands that an audience accept unequivocally the actor attempting to play the central character, Kris Kringle, and DCP newcomer (but veteran performer) Paul Kriner manages it effortlessly--- the man was born to the role, by all measures.
Lila Hartner serves admirably as the linchpin who holds the entire enterprise together in her role as the little girl who develops a faith that remains unshaken despite parental pressure and compelling arguments to abandon it.
And that's important! After all, where would the story go if no one believed in that rather large man in the red suit!
Blessedly, the adaptation is not a musical; a singing Santa might turn this otherwise happy and harmless confection into a warhead of actual tooth decay.
'Miracle on 34th Street' continues through December 16, 2017. Please go to www.dcptheatre.com for ticket information, or call (215) 234-0966.