Crowded Kitchen Players presents "ACT ONE' the magical and inspiring tale of young Moss Hart, opening October 13th.
Hart was the son of immigrants who lived in a cramped and dilapidated Bronx boarding house in the late 1920s. He quit school and worked multiple low-paying, futureless jobs to support his extended family. Through sheer force of will, raw talent, and a refusal to surrender his dreams of a playwrighting career, he rose almost overnight from complete anonymity to the very top of the theater world!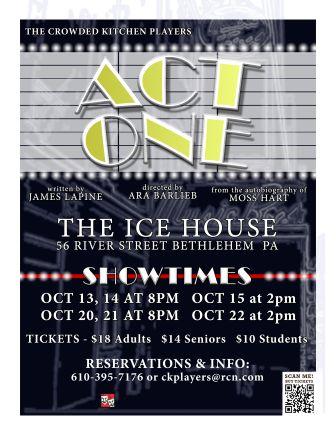 'ACT ONE' is adapted by James Lapine from Hart's incomparable autobiography of the same name and provides a light-hearted yet at times gut-wrenching look at a life in the theater during depression-era America.
Ara Barlieb directs the Crowded Kitchen Players cast which includes: Ryan McNamara, Brian Wendt, David "Oz" Oswald, Trish Cipoletti, Judy Evans, Ethan Silver, Max Wetherhold, Bruce Brown, Stephanie Steigerwalt, Carla Thew, Tom Harrison, Susan Burnette, Ryan Lichty and Alexandra Racines.
"ACT ONE" - October 13, 14, 20 & 21 at 8pm and October 15 & 22 at 2pm at The Charles A. Brown IceHouse, Sand Island, 56 River Street, Bethlehem, PA
Tickets: $18, Seniors $14, Students $10
For tickets, please visit www.ckplayers.com, call 610-395-7176, or email This email address is being protected from spambots. You need JavaScript enabled to view it.