Global ImpACTORS Group (GIG) is thrilled to announce their production of the engaging comedy/drama 'The Tin Woman' written by Sean Grennan and directed by Eric D. Hersh.
The storyline follows Joy, a recent heart transplant recipient, as she explores her second-chance with a new heart and the donor's family.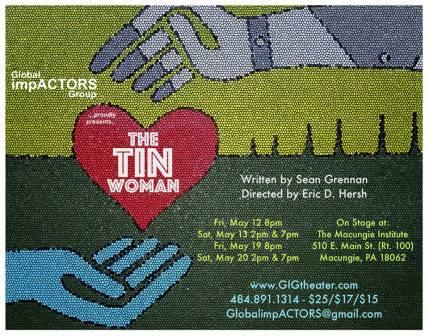 A brief "Talk Back" will take place immediately after our Saturday, May 13th, 7 pm show.During our Talk Back the cast, crew, a guest heart transplant recipient, and a donor family will discuss 'The Tin Woman' as well as personal and true life experiences with organ donation.
Todd Williams is Stage Manager and the cast features Marian Barshinger, Trish Cipoletti, Bill Joachim, Ryan MacNamara, Brian Wendt, and Rachel Williams.
'The Tin Woman' opens on Friday, May 12th at 8 pm at the Macungie Institute, 510 East Main Street (Rt. 100), Macungie, PA. Five additional performances will follow: Saturday, May 13th at 2 pm and 7 pm; Friday, May 19th at 8 pm; and Saturday, May 20th at 2 pm and 7 pm.
Prime Seating Tickets (choose your seats before General Admission and receive a free drink) are $25, General admission tickets are $17, General Admission Matinee tickets are $15, Students and Seniors are $15 with valid ID.
Advanced ticket purchases or more information can be obtained by calling 484-891-1314, visiting www.GIGtheater.com, or email: This email address is being protected from spambots. You need JavaScript enabled to view it. .
Approximate show run time: Two hours including one intermission.

Ticket sales for this show support Gift of Life Family House. "Gift of Life Family House serves as a 'home away from home' for transplant patients and their families by providing temporary, affordable lodging and supportive services to those who travel to Philadelphia for transplant-related care." Gift of Life Family House is a 501(c)(3) non-profit charitable organization.